Christmas Feather Tree Kits that You can Make Yourself!
Many homeowners and crafters are searching for a cost-effective way to bring beautiful antique decorations into their homes. Each kit contains all the materials needed to craft your own family heirloom. While a completed antique could cost the decorator hundreds of dollars from an antique dealer, a cherished feather tree can be constructed for a fraction of the cost, thanks to our kits.



Order our Feather Tree Kits, ornaments and accessories online via credit card with the PayPal service or by filling out our online form.



Our feather tree history follows the path of feather trees from Germany to early America, and details how they became a part of American folklore.



Questions or comments? Feel free to contact us via e-mail or phone. Click here for all our contact information.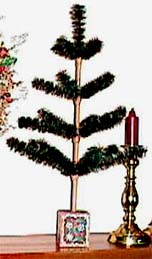 How to Get Started
Creating a turn-of-the-century reproduction goose feather trees gives an authentic look for decorating during the christmas season. Any ornament collection looks wonderful on a homemade feather tree. Making your 1st goose tree with biot feathers will have friends asking where to get one and how to create one for themselves. Feather tree kits are available in an assortment of colors and can be used for every season.
Goose Feather Trees have been featured in:
•
Better Homes & Gardens
•
HGTV
•
Cleveland Plain Dealer
•
Victorian Decorating
•
Myrtle BEach Sun News